Trinity Spirits
PACKAGING
Trinity Spirits is a heritage liquor brand celebrating traditional Celtic symbolism and philosophy. The Trinity Knot, or triquetra, celebrates eternity, everlasting bliss, and every group of three you can think of. If it's one thing the Irish love to do (I would know, I was born on St. Pat's), it's throw a few back and get to storytelling. The perfect pair is good friends and great stories. The perfect Trinity is good friends, great stories, and excellent drinks. Sláinte!
/ logo
/ copywriting
/ original illustration
/ photography
/ out-of-home, print and social advertising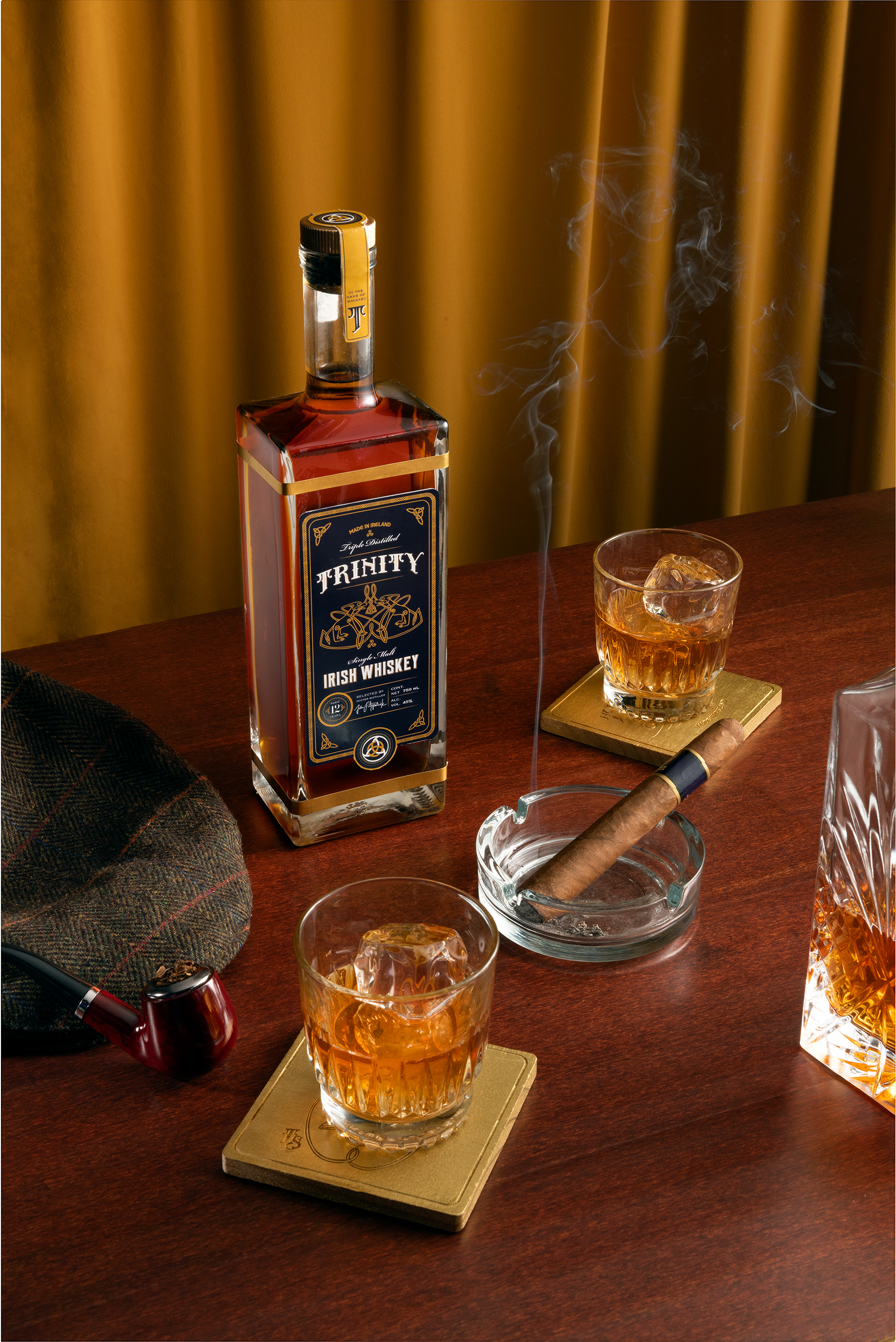 Positioning & Audience
An Irish line with Irish artistic tradition farther back than we usually think. Insular art appeared and evolved through the 5th to 8th centuries and has since been buried, save for your traditional Irish pub or, you know, The Book of Kells. Trinity Spirits celebrates this style and gives it a modern flair.
For alcohol drinkers ages 30 and up. Someone who knows their stuff, and has a higher budget to spend on good liquor.
Visual Identity
Celtic art and tradition revolves around a multitude of symbolism that comes in threes. The triquetra, which can be found in the logo, is an everlasting knot that binds its trinities together. A few of the many trinities include the most popular Father, Son, and Holy Spirit; land, sea, and sky; past, present, future. Out of these, I chose to enforce land, sea, and sky in the packaging and Father, Son, Holy Spirit in the advertising.

The land represenation found itself in the dog imagery on the whiskey bottle, the fish for the sea on the gin bottle, and the doves for the sky on the Irish cream bottle in traditional Celtic knotwork.

Voice Words
/ celtic / classic / refined